Past News & Announcements
Kristen DeAngelis Awarded Grant to Study Necromass
Kristen DeAngelis, Professor of Microbiology, received a $2,358,722 grant from the U.S. Department of Energy (DOE) to lead an interdisciplinary group of researchers to investigate a poorly understood, yet crucial, ingredient of the Earth's soil: necromass.
Sloan Siegrist Research Team Recipient of Manning/IALS Innovation Award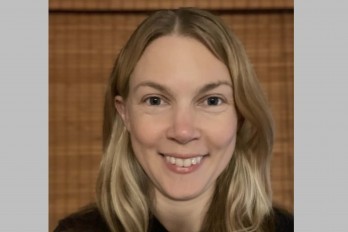 Sloan Siegrist and her research team were one of six UMass recipients of the fourth annual Manning/IALS Innovation Award. The grants assist faculty research groups to advance the development of startup companies. Sloan Siegrist and her team have established the company, Latde, to develop rapid, low-cost diagnostic for bloodborne bacterial infections.
Researchers Engineer Biofilm Capable of Producing Electricity From Sweat
Derek Lovley is among a group of researchers at the University of Massachusetts Amherst who recently announced that they have figured out how to engineer a biofilm that harvests the energy in evaporation and converts it to electricity. This biofilm, which was announced in Nature Communications, has the potential to revolutionize the world of wearable electronics, powering everything from personal medical sensors to personal electronics.
Faculty Promotions
Effective September 1, 2022, two Microbiology faculty members advanced in their faculty rank. Kristen DeAngelis was promoted from Associate Professor to Professor. Dr. DeAngelis' research focuses on climate change and better defining the role of microbes in soil formation and health and how climate change will affect these processes and dynamics.
Mitchell Walkowicz was promoted from Lecturer to Senior Lecturer. Dr. Walkowicz teaches numerous Microbiology courses including the Biology of Cancer & AIDS, General Microbiology, and Advanced Topics in Biotechnology and Biochemistry and Integrative Experience modules.
Researchers Find Key to Million-Dollar Problem for Vineyards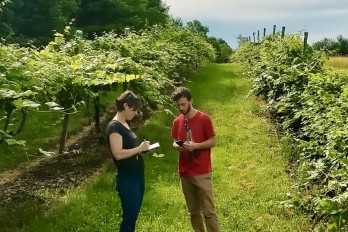 Grapevine Trunk Diseases, or GTDs, devastate grapevines each year and are responsible for significant annual economic damages for vineyards. Barry Goodell, Professor of Microbiology, and an international team of researchers have discovered a previously unknown mechanism that is deployed by a group of pathogenic fungi working in concert and which are responsible for the death of the grapevines. The researchers found that there is a potential fix, so common consumers probably eat it every morning with cereal: antioxidants and low-toxicity chelators. Often added to food products to preserve freshness, they also interrupt the production of reduced iron and hydrogen peroxide.
Kristen DeAngelis Chosen as American Society for Microbiology Distinguished Lecturer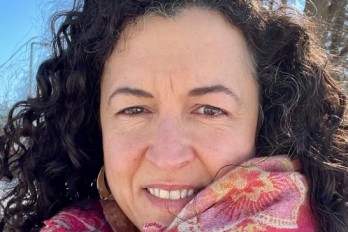 The American Society for Microbiology Distinguished Lecturer Program selects a scientifically diverse group of lecturers to speak at local ASM Branch meetings throughout the U.S. Lecturers are chosen annually through a competitive nomination process and only the most distinguished lecturers and researchers are chosen to participate in the program.
Stephen Rich and Co-Investigators Receive Grant from the CDC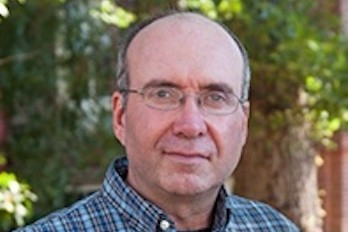 The University of Massachusetts Amherst has received a $10 million, five-year award from the Centers for Disease Control and Prevention (CDC) to create the New England Center of Excellence in Vector-Borne Diseases (NEWVEC). Stephen Rich, professor of microbiology, will serve as the project's principal investigator and Andrew Lover, assistant professor in the School of Public Health and Health Sciences will serve as the center's deputy director, with co-investigator Guang Xu, and investigators at Northern Vermont University, the University of Maine, University of New Hampshire, University of Rhode Island and Western Connecticut State University.
CNS Lecturers' Council Wins UMass Advance Award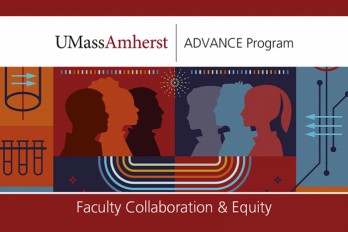 Erika Hamilton, Lecturer in Microbiology, and other members of the CNS Lecturers' Council received the Equitable Practices in Collaboration and Shared Decision-Making (EPiC-SD) Award from UMass ADVANCE. The award recognizes effective and equitable shared decision-making practices in faculty-led groups of three or more. The winning teams will each receive $500.
Sarah Kaunfer Honored as 21st Century Leader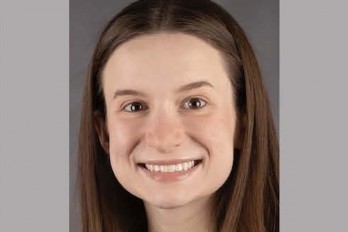 Sarah Kaunfer, Microbiology Class of '22, will be honored as a 21st Century Leader along with nine other seniors at UMass Undergraduate Commencement on Friday, May 13, 2022. Ms. Kaunfer was an undergraduate researcher with Associate Professor of Microbiology Yasu Morita studying characterization of the cell envelope of Mycobacterium tuberculosis, the causative agent for the global respiratory disease.
Ashley Eng & Wyatt Tran Win Prestigious Goldwater Scholarships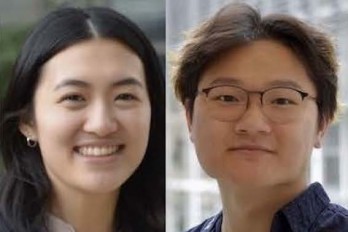 Microbiology undergraduates Ashley Eng '23, and Wyatt Tran '23, have won scholarships from the Barry M. Goldwater Scholarship and Excellence Foundation. Goldwater Scholarships support students who have a passion for research, potential to contribute to their disciplines, and who plan to pursue a graduate degree.
Emily Bechtold Receives 2022 Curt Thorne Carry On Award
Emily Bechtold is the 2022 recipient of the Curt Thorne Carry On Award. The award is given annually by the Microbiology faculty to a doctoral student for their contributions to the Department and their discipline and for serving as a role model to other students.. Emily is a February 2022 graduate of the Microbiology Graduate Program and completed her dissertation in Klaus Nüsslein's lab. Emily is now a postdoctoral research scientist at Colorado State University studying microbial involvement in greenhouse gas emissions from freshwater wetlands.
Kristen DeAngelis Elected to the American Academy of Microbiology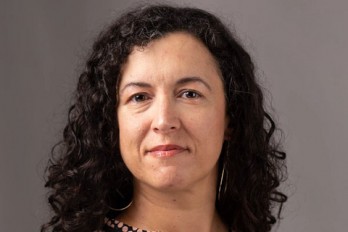 Kristen DeAngelis, associate professor of microbiology, has been elected to fellowship in the American Academy of Microbiology (ASM). DeAngelis was among the top 65 fellows who are elected into the Academy this year.
Pages