Past News & Announcements
Mandy Muller Receives NIH Grant
September 2020: Mandy Muller, Assistant Professor of Microbiology, recently received a five-year Maximizing Investigators' Research Award (MIRA) from NIH's National Institute for General Medical Sciences. Dr. Muller will continue her advanced studies into how certain viruses evade the body's immune response by hiding, undetectable, deep in tissues for decades. Read more...
Barry Goodell and Reuben Shipway Receive NSF Grant
June 2020: Dr. Reuben Shipway at the University of Portsmouth in the UK, and Professor Barry Goodell, UMass Microbiology, have received a 2-year National Science Foundation (IOS- Plant Biotic Interactions) award for $476,483 entitled: "How do shipworms eat wood? A non-enzymatic, symbiont-mediated mechanism for the digestion of lignocellulose in teredinids". Read more...
Microbiology and Engineering Electrically Connect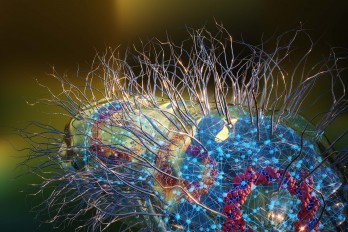 Jonathan Miller Interviewed by Journal of Cell Science
May 2020: Jonathan Miller, Ph.D., a recent graduate of the Microbiology Graduate Program, was interviewed by First Person. First Person is a series of interviews of first authors of a selection of papers published in the Journal of Cell Science. The series helps to promote early-career researchers and their published research findings. Read more...
Ghoshal Three Minute Thesis Finalist
March 2020: Microbiology Ph.D. candidate, Mrinalini Ghoshal, is a finalist in the UMass Graduate School's Three Minute Thesis (3MT) competition. Of the 40 preliminary round participants in the competition, 10 were selected as finalists. The 3MT campus final will be held on Friday, February 28th, 1:00-2:30 p.m. in the Old Chapel. Finalists will also present their research to the broader community at the 3MT Community Day at the Amherst Jones Library on Saturday, March 28th, 3-4pm.
Dirty Little Secrets
February 2020:  Western Mass News recently met up with Dr. Erika Hamilton, Director of Microbiology Teaching Services, to discover what bacteria live and grow on every day items that we use such as water bottles, purses and gas pumps. Read more...
In another segment on Western Mass News, Dr. Hamilton tested makeup for bacteria that customers sampled in stores. Read more...
Nevin and Lovley Named Highly Cited Researchers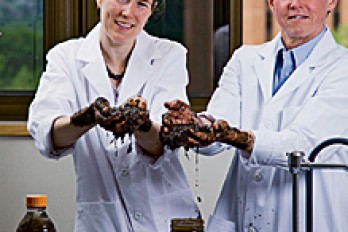 December 2019: Kelly Nevin and Derek Lovley have been recognized for being among the world's most highly cited researchers in 2019 by London-based Clarivate Analytics, owner of the Web of Science. The citation analysis identifies influential researchers as determined by their peers around the world. Read more...
Mrinalini Ghoshal Receives Award for Presentation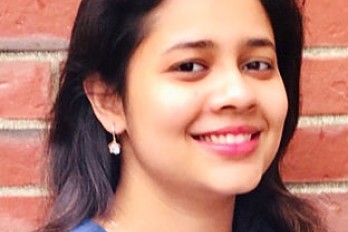 November 2019: Mrinalini (Mira) Ghoshal, 3rd-year PhD candidate in the Microbiology Department received the 1st Prize Award for the Best Oral Presentation at the 9th Annual Life Sciences Graduate Research Symposium. The Symposium was held at the UMass-Amherst Campus on November 22, 2019.  The title of Mira's presentation was: "Exploring the role of low molecular weight metabolites in the formation of host brain lesions during Cryptococcus neoformans infection".  Cryptococcus is an important fungal disease problem that kills 181,000 people each year, and Mira is exploring a new mode for the way the fungus attacks the brain. Her research is conducted in collaboration with her advisor, Professor Barry Goodell in the Microbiology Department.
Lovley Team Recipient of Manning/IALS Seed Grant
October 2019: Derek Lovley and his group of researchers were one of six teams to be named recipients of the first Manning/IALS Seed Grants for their project  "Fabricating Protein Nanowires for Unique Sensing Capabilities".  Alumnus Paul Manning and his wife, Diane, committed $1 million through their family foundation to establish the Manning Innovation Program. Read more...
Derek Lovley's research on electroactive bacteria was recently featured in the New York Times.
Microbiology Promotions
September 2019: Dr. Yasu Morita received tenure and was promoted to the rank of Associate Professor. Jeffrey Kane, AMB Lecturer and Advisor, was promoted to Senior Lecturer. Both promotions were effective September 1, 2019.
New Bacterium Discovered by Kristen DeAngelis, Gina Chaput and Researchers
May 2019: Kristen DeAngelis, Gina Chaput, and a group of researchers recently identified and squenced a new lignin-degrading bacterium, Serratia quinivorans 124R. The findings were recently highlighted as a Microbiology Resource Announcement by the American Society of Microbiology. Read more...
Wilmore Webley Awarded Manning Prize for Excellence in Teaching
May 2019: Wilmore Webley, Associate Professor of Microbiology and Director of Pre-Med Advising, was one of five University of Massachusetts faculty to receive the Manning Prize for Excellence in Teaching. One prize was awarded from each of the five University campuses. The award was established in 2016 by UMass Lowell alumni Rob and Donna Manning to honor UMass professors who excel in teaching and service. Read more...
Pages